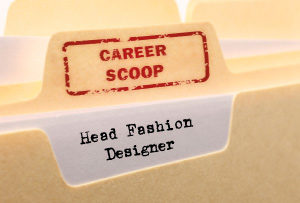 What's your Job Title?
Head Fashion Designer.
In a nutshell, what do you do?
I run the Design Room and go overseas on creative business trips, bringing back ideas to share with my team of Designers and Pattern-makers, and adapt to the Australian market. In some roles, we design garments on an ongoing basis, in others, we design by season, in advance.
In terms of the design process, I start with fabrics, meeting with suppliers to choose the right fabrics and then I build a story board for the collection I'm working on. The next step is sketching and designing garments, discussing this with the team and briefing the Pattern-cutters on style and fit, sometimes getting hands-on with pattern-making too.
Once we've cut the sample, this goes to the Machinist – sometimes we do a mock-up toile garment as a test run – and then we do a fitting with house models, make any adjustments and work on grading (working out the different sizes). That gives us a 'salesman sample' in the final fabric, and the final step is getting the garment into production – sometimes locally, and increasingly, overseas.
Why did you decide to become a Head Fashion Designer?
I loved creativity and when I was young, I always loved dressing up my Barbies. I was always interested in fabrics and how things were put together – I was very tactile – and I'd see something and then make it up myself, without a pattern. Really, I fell into this work.
What path did you take into it?
I studied full-time at TAFE (a 3 year Fashion certificate, as it was then) and from there I found work as a Design Assistant, working with a rag trade recruiter who took me under their wing. That first role was the best grounding and experience to build upon, as I got involved in everything – helping the cutter to lay out fabrics, getting things ready for production…
My next role was as a Designer and Pattern-maker and when the Head Designer moved on, I stepped up into that role. Later on, I became freelance, working across a wide range of companies, and I also tutored in pattern-making (a skill which many designers don't have).
What, in your opinion, is the best bit of being a Fashion Designer?
Seeing something created from one of your ideas; seeing the end product from your original vision. Seeing people wearing one of my designs too – when you see that you've helped them to feel good outside, and you know that that makes them feel good inside too.
I also really enjoy helping younger pattern-makers and designers. I've loved tutoring people and making the process simple for them to understand; the reward is when you see the aha moment, and they get it.
Every job has its downsides. What do you think are the worst bits?
The fashion industry can be very cut-throat, there can be quite a bit of back-stabbing and it can be a very intimidating environment, as creative people don't always consider how they're treating the people around them (and they tend to get away with a lot). I've come up with new ideas and then had others take credit for my work, which is not unusual. Watch the film 'The Devil wears Prada' – that's what it's like.
It's also an underpaid industry, not just in Australia, but internationally, despite the money it generates, and as a small industry (getting smaller locally), it's not easy to get into, which can make it a fear-based industry. People can feel desperate to get in, and end up being used, doing internships and working long hours for free…
Is it what you expected when you first started out – and what's different?
It's not as creative as it used to be. There are still some places that are creative and original, but there's a lot of copying goes on as it's now more about trend, turn-over and consumption.
What does the public least understand – or mistake – about what you do?
People don't realise just how much work goes into that one garment you see on the rack; there are so many things to think about, from fabric slippage and width, to stitching and buttons, finishing, style and fit.
It's also often real sweatshop stuff – not glamorous at all! Design rooms don't always have air-con and working as a freelancer, I'm lucky if I get a chair when I go into work.
The hours are long and you do lots of overtime which you're not paid for. It's very deadline-driven work, so you can end up working on public holidays, at night… and in the end, when the models walk the runway, as a Designer, you don't get acknowledged for your part in the collection.
People also don't understand how challenging the industry can be. People get used and abused, and I've had staff come to me in tears many times. You need a tough skin to not take things personally (even when the comments are personal!)
What kind of people tend to do well?
Creative people, definitely, but also people who can adapt to different label's styles, with an eye for saleability. You can't be too 'out there' as it's about what will sell and not what you would choose to wear.
You also need to be quick-thinking, adaptable and able to multi-task, as things can change very quickly – from hour to hour.
Finally, you need to be really resilient, to handle the pressure and get on with the work, working with people with very different personalities and often different cultural backgrounds. The people who last in the fashion industry tend to have an eye for quality, and a distinctive style.
Finally, any advice you'd offer to people looking to get into this line of work?
First, study fashion and be prepared to start at the very bottom. You may end up doing jobs you didn't expect to do, and you need to roll up your sleeves and be willing to get stuck in. For example, you may need to get in the car and drive garments to an outside machinist for sewing or repairs.
Be open to learn – at whatever level you find yourself – from people who've been in the business a lot longer than you. It's OK to say that you don't know… even if it may not feel like that.
Look to learn as much as you can about the entire design process, as early as you can. If you understand the whole process, then you understand how the team fits together which means that you can manage your time better and the whole team runs more cohesively.