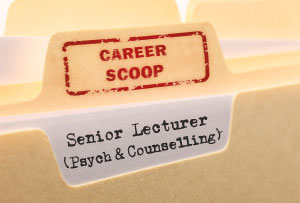 What's your Job Title?
Senior Lecturer in Educational Psychology and Counselling.
In a nutshell, what do you do?
I take lectures, tutorials, and workshops in the above areas.
Why did you decide to become a Senior Lecturer?
After I did my Graduate Diplomas in Counselling and Education; I had enjoyed teaching but wanted to teach adults, so the university sector was such an opportunity.
What path did you take into it?
From teaching, I enrolled in a PhD as you needed one to find employment in a university. I taught in schools (contracts and relief) and worked as a sessional tutor at the university.
What, in your opinion, is the best bit of being a Senior Lecturer?
It is the teaching and helping both young and experienced minds to further educate themselves. I also do research and thesis supervision which gives variety in my role.
Every job has its downsides. What do you think are the worst bits?
I think that technology is encroaching on teaching and I can see a day where much will be online and face-to-face teaching will be diminished.
Is it what you expected when you first started out – and what's different?
It was, when I first began in the job in 2002. However, in the last four years there has been more paper work and more reliance on online aspects so that the face-to-face aspects of teaching have diminished. This has made it less enjoyable.
What do the public least understand – or mistake – about what you do?
They think that we are on holiday whenever students are on semester breaks – we are doing lots of other work.
What kind of people tend to do well?
They have to have a love of learning, to be flexible, and to be able to deal with people and their problems.  You need to have a lot of energy and be able to take criticism from students and other academics.
Finally, any advice you'd offer to people looking to get into this line of work? 
Make sure that you really love the area you want to work in, as it will challenge you if you don't.