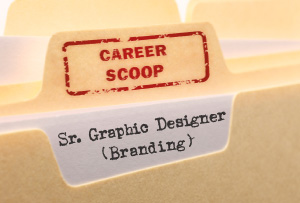 In a nutshell, what do you do? 
Brand development and implementation across print and digital mediums.
Why did you choose this career? 
I've always had an appreciation of art and design in all forms (not just graphic design, but interior design, industrial design etc) and felt it was the right fit.
What path did you take into it?
I studied at diploma level overseas; in Australia I would recommend getting a degree.
What, in your opinion, is the best bit of being a Senior Graphic Designer?
Creating brands from scratch.
Every job has its downsides. What do you think are the worst bits?
There are many instances where a concept gets pulled apart by a client, and a lot of the time, this comes down to personal style and opinion. It can be difficult dealing with a client who has a skewed sense of design, but generally the client gets what the client wants and you have to work your magic to make sure the piece delivers its message while maintaining a good design style.
Is it what you expected when you first started out?
A lot of designers start out thinking they are going to be designing concepts all day. But they have to remember all jobs start (or should start) with concise briefs which need to be followed, brand guidelines that need to be adhered to, concepts that need to be developed – usually in strict time constraints to remain within budget – and then rounds of changes with the client, which need to be followed with strict attention to detail, but as quickly as possible.
What do the public least understand – or mistake – about what you do?
Some people don't realise that every design (especially in the corporate world) has a purpose or a message that needs to be delivered. Design needs to have a strategy behind it.
I often get 'oh, you design flyers and things'. Well, yes and no. Anyone with a computer can design a flyer. But a flyer that delivers a message to its target audience and gets results, all the while reinforcing the brand and looking good design-wise can't be created by anyone. All designers need to think strategically before starting a design.
What kind of people tend to do well in this kind of career?
People who are passionate about design, who have good attention to detail, and can remain professional while dealing directly with clients.
Finally, any advice you'd offer to people looking to get into this line of work?
Create a 'real' portfolio. It doesn't necessarily have to consist of work for real businesses, but try and incorporate a range of work from various industries including retail, property, service driven (eg. plumber, accountant), fashion, food. And also show developing a brand from start to finish and across different mediums (ie. logo, print and digital collateral).
Keep your portfolio CLEAN, i.e. when you're showing clients' work, don't clutter with your own design – focus on their brand / work.
Make sure there are NO spelling or grammar errors in your cover letter or CV. Create a brand for yourself and try to stand out by representing yourself differently.