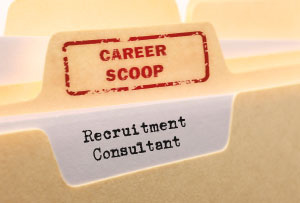 What's your Job Title?
Recruitment Consultant.
In a nutshell, what do you do?
As a Recruitment Consultant, the primary focus is to match candidates to vacancies within a client's company.
The client has a vacancy or a job requisition that they're looking to fill, and our role is to source a suitable candidate for that role.
We work closely with both candidates and clients to ensure we are finding the best person for the right role.
Why did you decide to become a Recruitment Consultant?
I didn't decide, I kind of fell into it; a lot of people in this industry fell into recruitment.
What path did you take into it?
I was actually a Teacher for a number of years before I moved (rather, fell) into Recruitment. I attended an interview with the aim of obtaining a temporary position in admin, to try something different – and I ended up being offered a role within the recruitment company. A lot of people get into recruitment by attending an interview.
I had absolutely no idea what recruitment was, so I was asking all these questions about what they did, 'day-in-the-life' kind of questions, and they then told me that I was interviewing them, which was exactly what they wanted! I was offered a job with them, thought I'd give it go – I was looking for something different, and I thought if I didn't enjoy it, I could always go back to teaching… I've now been in the recruitment industry for longer than I'd been in teaching.
What, in your opinion, is the best bit of being a Recruitment Consultant?
What I love about recruitment is meeting people, learning about their stories, hearing what makes them tick, and getting them on the right path – and that's client (company) and candidate (individual) alike. The money side has never been my main driver.
From the client perspective, it's learning about the business, the strategic direction of the organisation, their people and how they enable them to get there. I love that part. I get an understanding of the business, where they want to go and what people they need to get them there… and then I talk to candidates, hear their stories and assess their competency, skill and motivation, and find out where they match.
I love it when you get an 'out of the box' candidate, who on paper doesn't look like they'd be the right person, but there's something in them that you know they're just right for that company. I call them my wild-cards.
It's important to remember that you certainly should not hire on gut feel. It's critical that you undertake a full and transparent process to assess the suitability of each candidate. A skilled recruiter is able to unpack the candidate suitability and transferable capability, and it's their role to highlight this to the client.
It's not simply about identifying and matching skills, like-for-like. In essence it's not really about what they did – it's about how they did it. It's about how they succeeded and how they can take that into the new company.
As a Recruitment Consultant, you spend a lot of time getting to know people and asking a lot of 'why' questions, to get to the core of what someone's looking for and why. You need to get to the real essence of it, to the real passion and motivation; to someone's values. Some people just want a job that will pay the bills and then let them get home to their family, and that's fine – that's their core motivator. Whereas someone else, may be motivated by the opportunity to learn new skills, that will then enable them to get to where they really want to go, and that's fine too.
Every job has its downsides. What do you think are the worst bits?
Recruitment is a complex role; it's such a web, and there are different scenarios that could happen. It is the only job where the 'product' you are dealing with can change its mind – both client and candidate. Therefore the needs of managing multiple stakeholders can at times be challenging.
There is a recruitment cycle that you can follow, however if someone (client or candidate) changes their mind through the cycle, you have to be resilient and able to adapt to the situation. For example, you might get a great candidate, they looked great on paper, you've assessed their capability by conducting a thorough interview, your client thinks they are great, reference checks are glowing and when you progress to offer them the role, they tell you their current employer has offered them a counter-offer and they have decided to stay put.
That's where getting to really know people is so important. If you'd only asked surface level questions – if you didn't know their core motivators – then there may be little you can do. Maybe that person would have always stayed in their current role if their company had offered them more money, or they'd always have stayed if they were given more learning opportunities…
If you know someone's true drivers or motivation for seeking a new role, then in the situation where they may change their mind at the last minute, you can remind them about being true to themselves. That's what makes the difference between a really good Recruitment Consultant and someone who's just ticking boxes. A true "Recruitment Consultant" adds real value to both parties.
Many people in this industry are called Recruitment Consultants, when they're really Recruitment Administrators or job fillers. Unfortunately the industry doesn't have the best reputation, and this is because there are people out there providing a really surface level, transactional service. They're not consulting in any way, shape or form.
They're thinking about the short term impact, not the longer term, where filling the job is more important than the success of the candidate in the role or company. In many cases they are not focused on building long-term relationships or providing the best support and advice that will help the candidate/client – they're thinking about how the placement of that role, will impact their own financial success. That's not the right driver if you want to have longevity in this industry.
Is it what you expected when you first started out – and what's different?
I really had no expectations at all. At the beginning I found, coming from teaching, that it was a challenge to know how to best structure my day. As a teacher, your day is very regimented – you're told when you can eat or have a break – and everyone knows what a teacher does. The recruitment industry is very different.
Although I was shown a few ways of how to best structure my day, you really 'run your own desk' like your own business. Ultimately you (with the support of your manager) decide where your time is best spent. Therefore a day can be much more fluid.
I also came from a very insular industry (as many industries can be), to an industry (one of the few) that has access to so many other, completely different industries – and I love that. I love that I've been able to learn about what so many other people do, and the companies they work for. Prior to moving into this industry I wouldn't have any idea what an Investment Banker did or what an Engineer actually does; now I do.
What do the public least understand – or mistake – about what you do?
There is a perception that as a recruitment consultant you are purely driven by sales and that it's just about the money. In reality for quality recruitment consultants, this is not the case. This is a profession and many people have very long and highly successful careers in the industry.
As a recruitment consultant you really are the conduit between candidates and clients. Ultimately the decision to hire or not hire a candidate is up to our client. We have the ability to advise and influence our client based on our interactions and assessment of the candidates' suitability for a role, however ultimately it is the clients' decision.
From a commercial perspective, you could say we 'work' for the client as they pay for our services. However without candidates we could not do our job. It is necessary to have a balanced focus on both sides, the client and the candidate, as both are obviously important… it's just a different focus. Without candidates we couldn't do our jobs, and without our clients, there'd be no jobs to match. It's important to respect both sides of the equation.
The industry can get a bad name when recruitment's treated as transactional, as a black and white process; when you're not thinking about each person and their feelings. A good Recruitment Consultant gives their time and adds value to every candidate that they come into contact with. I want each candidate I meet with to walk away feeling that it was time well spent, valuable, and they were able to take something away with them.
I tell candidates that I would love to guarantee them a job, however unfortunately this is not possible… 1. I am not recruiting for every open job in the industry, and 2. I'm the conduit between the client and the job, and I'm looking for the right candidate for that job. If I don't think a candidate is the right person for the job, I'll advise them why. If I think that they are the right person for a role, then I'll let them know that I am not the ultimate decision maker. The client makes the final decision and all I can do highlight the candidates' suitability for the role based on the information I am provided.
Ultimately, I want all candidates to get a job that they love – whether it's through me, by themselves, or through a competitor. I'll try to help someone on their journey, give them some support, point them in the right direction or link them to someone else…
What kind of people tend to do well?
People with high levels of both social intelligence and emotional intelligence, and you need to have curiosity, and the want and will to learn. You also need to be intellectually intelligent, to have the ability to engage at a senior level within an organisation. That's not to say that you'll necessarily be dealing with those at C-level (CEO, CFO, CIO etc), but you do need to have commercial acumen and be interested in understanding the strategic direction of a business so that you can add value. The best recruitment consultants are seen as trusted advisors to their clients.
The industry is best suited to those who enjoy a fast paced environment. The recruitment industry is changing really quickly, so if you're using transactional recruitment processes, you will soon become redundant. There is technology out there that can do your job better than you can do it, and faster than you can do it. It can capture an audience much better than you can. The only thing that technology can't do is have real human interaction; a computer can't offer emotional connection.
It is necessary to understand and have an appreciation for technology, because without it, this role would be much more challenging. You might have the highest level of social and emotional intelligence, but if you can't find what you need through the use of technology, you'll fall behind. You need to link the technology and your human interaction together.
As for sales skills, I really don't consider myself a sales person. I have a relatively high level of social and emotional intelligence, I can engage with people, I have intellect, and a really good understanding of business and HR… Teaming that together, if I can engage with a client and understand their core business, and what success looks like for this next role, then I am better equipped to find the right person. If I get to the core of that person's motivation, strengths, skills and capabilities, and find the right fit, then there's no sell.
It is necessary to build a brand and a really strong network – a physical community of people that you can call on. It is important to spent time and invest enough energy into building a brand in the industry in which you operate. You need to understand industry nuances, the patterns and trends within it.
To do well in this industry, you need to stand out from the rest – as do your clients. They must stand out against all of their competitors in order to attract candidates to their business. The same applies for candidates. There are hundreds of candidates looking for work and in many cases each person could look the same to the employer. It's important for candidates to stand out from the rest.
Recruitment Consultants need to know how to find the right person, for the company – not assume that they're the expert and that they know who the right person is, when the company may want someone quite different – and in order to attract clients, they need to ask themselves: why me? They need to be able to differentiate themselves too.
The days of scripted sales calls are gone; if you need to pick up the phone to someone you don't know, you've lost it. You can't call someone up and say, tell me about your business. We live in a world full of technology and if you don't know about my business, if you haven't done your research or you aren't a true specialist, if you don't actually know the industry we're in and what's happening, what the trends are… That's where our industry is going. You need to be adding value that other people can't add.
Finally, any advice you'd offer to people looking to get into this line of work?
Don't get into this line of work if you don't want to work hard; it can be a complex, fast-paced industry and it's not a 9 to 5 job. You can do it 9 to 5, but if you want to do it well, you'll have to stretch those hours at times. You need to have a passion for it.
Also, don't get into this line of work purely to help people like a social worker does. Get into this line of work if you want to help, yes, but help people generally – meaning both business and individuals.
You need to have curiosity, I think that's really important – wanting to learn, wanting to be the best in your space, wanting to be in your space, having a network of people. You don't have to be an extravert, however you do need to be deeply embedded into the community in which you operate. You need to actively engaged with the people in your sector. These days people don't find jobs by applying on seek; top candidates go through networks, through word of mouth. It is therefore critical to have an active and professional profile.
To work in this space as a professional, you need to have an interest in the space you work, you need to see the bigger picture from an HR perspective – how the talent piece fits in with the bigger organisational strategy.