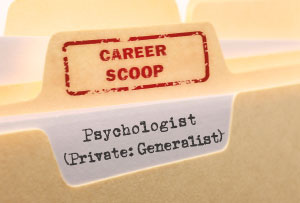 In a nutshell, what do you do?
In private practice, my main role is to work with clients during a one hour session, this might be once a week or fortnightly. Sessions are often individual, though it can also be with couples, or with families.
During this time, there's a lot of talking, with me asking questions; the client guides me through their life, what's important to them, and what's not working well for them.
We might go through some activities – like mindfulness exercises, working with activity sheets, guides or tools – to identify their thought processes and behaviours, and work out why they're experiencing difficulties. These tools can also help them plan for the future.
Throughout this process, I take notes. One reason for these notes is to make sure I have a clear record to help me plan for future sessions. Often I'm reporting back in some broad way to the referring service, such as their GP and, so I need to keep clear and accurate notes. Obviously, this is balanced with maintaining client confidentiality and clients always know in advance if I need to send a report.
Why did you decide to become a Psychologist ?
I took up private practice as a way to balance my work as an Academic, in Psychology. Once you've learnt the skills and have used these on yourself successfully, you see the difference that you can make, and want to share this with others.
In private practice, you facilitate – helping clients to help themselves. A lot of the time, they are doing the heavy lifting, the hard work… I provide the space within which they can do that.
What path did you take into it?
I did a 3 year Bachelor of Psychology (now the Bachelor of Behavioural Science), and then completed a 4th, Honours year.
After that, I completed a Generalist Psychology program, working in supervised practice; I took the maximum time to do this (5 years) as I was also undertaking a PhD at the time, and I wanted to feel confident that I was learning as much as I could.
What, in your opinion, is the best bit of being a Psychologist?
I like working with clients who really want to be there – who want to make changes and who are excited by new ideas. Of course, getting thank you cards and notes is also lovely… when it all comes together and someone makes positive changes, the job can feel very satisfying.
Also getting to know someone in the first session – you never know who you're going to work with. Often that makes it the hardest bit too, but I enjoy the challenge and feel honored when another person shares their life with me.
Every job has its downsides. What do you think are the worst bits?
When you have to tell someone that honestly, you're not the best person to help them; there are always limits to anyone's training, and you have to be really honest about that. People are disappointed, because the session hasn't brought them closer to their goal.  Even though this is tough, you have to be aware of your limitations and help them find someone else who will be better able to help.
Depending on the area you're working in, progress can be slow, with two steps forwards and two steps back – then you can start doubting yourself. In really challenging areas, where you may be working with someone for years, there can be very slow progress – really small movements.
It is important to consider that not everyone is motivated or interested in making changes. For example, you can be working with court mandated clients (compulsory referrals), which adds another of complexity.
In any area, you can be dealing with extremely challenging issues, and you have to know about self-care, to look after yourself. You need to ask, am I going to be able to help this person? Am I at risk of burning out? Some people find that really difficult, but self-care is very important in this line of work.
Finally, some people dislike the paperwork, but I don't mind that.
Is it what you expected when you first started out – and what's different?
It's pretty close to what I expected. Initially, I wanted to be a Grief Counsellor in Respite care, working with the terminally ill… but I haven't worked in that space at all. The diversity of career paths within psychology surprised me; I never thought about working as an academic and as a private practitioner.
You do need to have a good, clear head for policy and procedure, and be able to keep up with the latest research and evidence. Psychology is not simply based on gut instinct and that surprises some people. There are also very high ethical expectations of you as a Psychologist.
People also forget the amount of self-reflection and self-improvement that you have to commit to, for the rest of your life, as a Psychologist. You never, ever stop learning or trying to improve your work and yourself.
What do the public least understand – or mistake – about what you do?
The cliché is that we're mind-readers… and we're not mind-readers or fortune-tellers. Sometimes someone will describe a friend and then ask what I think's going on with them – but you need that own person's guidance, in what's happening for them. I believe that people are the experts in their own lives, and you need to spend hours with them to just get a basic understanding of who they are.
People don't always realize what we're not like GPs – it's not like resolving someone's problem, by giving them a cream for a rash. It's not a perfect comparison but we're closer to a sports coach. A sports coach can't do the work for the team… what they do is create a space for the team to work out what they need to do, to create training opportunities, to ask questions and then support them in getting to a goal.
Most people don't realise how active our clients need to be if the process is to bring about real change.
What kind of people tend to do well?
I find that people who're successful in this field have worked on their own mental and psychological fitness quite purposefully, and consistently – and that's not necessarily an age thing. Lots of people think that working in Psychology is about directing someone else's life, and when you ask them about their own weaknesses and challenges, they become very uncomfortable and defensive. You need to be willing to look to yourself first.
In sessions, you need to be able to recognise how you're responding emotionally to someone. You need to be curious, open and inquisitive about how you're responding and the reasons for this. Sometimes you can't resolve this for yourself, and that's when peer consultations are really valuable.
You can't understate the value of critical thinking… and obviously, good communication is key. You also need to be able to work as part of a team – you may be quite isolated, in private practice, but you're still working with service providers; Doctors, other Psychologists or Psychiatrists.
Being organised definitely helps, as you need to be motivated to keep good records – and procrastination is not a good thing (for example, when you finish a session at 8.00 pm, and want to skip writing the notes up!)
Obviously, you need a level of compassion… but this characteristic needs to be tempered with the ability to ask challenging questions – knowing when to push a bit harder. Being a 'big softy' is not helpful.
You do need to have a good sense of people. People wanting to move into Psychology may say that their friends always come to them for advice, but as a Psychologist, you don't give advice – you don't solve people's problems for them. You ask the right questions, to help them to solve their own problems…
Finally, working as a Psychologist demands a really high level of integrity. Your loved ones might ask you about your work. You can talk generally… but there are very strict boundaries for confidentiality – and people are not coming to see you to give you entertaining stories.
On confidentiality, you also need to know when to break that, when necessary. There's a whole framework of guidelines and procedures around it. You need to be able to think clearly and quickly.
Finally, any advice you'd offer to people looking to get into this line of work?
The best piece of advice that we give students is to go and see a psychologist for yourself. Try and see someone who's been recommended or access programs through work or study (if you're working, you might have an Employee Assistance Scheme, or if you're a University student, you can access your university's counselling program for free).  Try being a client, talking about your own issues, and experience how it feels.
Another thing I suggest is to flick through the pages of a 1st year, general Psychology text-book. Go into a university library, and have a look; you'll find it covers language, memory, perception, social psychology… a much broader area than most people realise. Studying Psychology at undergraduate level effectively gives you 4 years of research training – you don't get to do any client-based or therapeutic work until you reach Masters level.
If you're still interested, ask yourself what kind of work appeals to you, before you start studying. If you want to do intense, one-hour-a-week client work, then working as a practicing Psychologist may suit you.
If you prefer the idea of providing longer, instrumental support, maybe for a few hours at a time or on a daily basis, then you might prefer working in Social Work or Human Services. In these bachelor degrees, you're expected to complete hundreds of hours of work with clients.
As a generalist degree, Psychology can lead to a lot of different opportunities; the skills you learn are valuable in lots of different areas – critical thinking, working with policy and procedure, communication and team skills, problem solving skills and more. There are a lot of jobs available to Bachelor level graduates but they will be more general (and won't include the title "Psychologist").
If you're really serious about a career as a Psychologist, then plan your studies well – make sure you give yourself enough time to complete your study units, gain work experience and build your networks. The required training takes most people 6 years, so you need to be sure beforehand. Plan realistically, so you can study and take on some volunteering work, or part-time work in an area you're interested in. This may mean studying part-time.
Don't think you can do it all – study full-time, work and volunteer. We need Psychologists who understand good self-care; manage your time well, be realistic and know your own limits. Most of all, enjoy the journey!