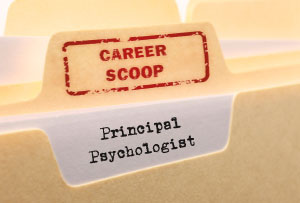 What's your Job Title?
Principal Psychologist.
In a nutshell, what do you do?
I provide Psychology and Counselling for individuals and couples, as well as facilitating group workshops and programs on health and wellbeing, for organisations. On top of this, I manage the practice. Currently, we have 7 Psychologists and 3 administrative staff working here.
Why did you decide to become a Psychologist?
I'm relatively new to Psychology, having only started my studies in 2000, but I always wanted to do this kind of work, to help people.
What path did you take into it?
After leaving school, I applied for Occupational Therapy and didn't get in. The Careers Advisor at the university told me that I was too young to be a psychologist and that it was too depressing a career… so I went into administration. I then got married, had my children and returned to work in Banking and Finance. I was almost in my 40's when I decided to start studying Psychology and it really felt like I'd come home; everyone's reaction was 'at last!'
I did my 3 year undergraduate degree part-time, as I was balancing studies with work and family commitments, and then studied Honours full-time. I loved the research topic in my 4th year, so I applied for a PhD – and got offered a scholarship!
At the same time as I did my PhD, I completed my 2 year supervised internship for registration. I worked and volunteered in a variety of roles, for experience and to meet the internship requirements.
It's become increasingly hard to complete the internship so most people think they have to a 2 year Masters program (but there aren't enough places, and there's an anticipated shortfall in the numbers of Psychologists, as a result). The internship pathway still exists and there is also now another pathway – an extra year at uni and a 1 year internship.
The internship pathway is something the PBA (Psychology Board of Australia) is reviewing, and hopefully it'll change and access will improve. My personal preference would be one year of university, following by a one year internship…
What, in your opinion, is the best bit of being a Psychologist?
The variety – as a generalist, I get to tap into a range of different areas. I see individuals, do work in the careers field, run workshops within organisations… there's a real breadth of work, as I'm not constrained to one area.
It's also amazingly rewarding work. You're allowed into people's lives, gifted with their thoughts and opinions, and you get to see someone progress and change.
Every job has its downsides. What do you think are the worst bits?
Professionally, there aren't any for me.
Personally, working with grief, loss and unresolved trauma, you have to have a good self-care strategy and not take on too much yourself. It's important to take off your 'Psychology hat' with friends and family, and to make sure that you get to relax and just enjoy things.
Lastly, the money isn't great, considering how much training is required!
Is it what you expected when you first started out – and what's different?
Because I was in my 40's when I started out, I had a pretty good idea of what to expect – and I was always clear on what I wanted to do, which drove my own practice and professional choices.
What has surprised is the number of opportunities out there, and the amount and variety of work that I've been approached for.
What do the public least understand – or mistake – about what you do? 
Most people think that Psychology is 'just talking', but good Psychologists are very practical, with a real focus on what each client needs.
People also think that you only see a Psychologist once you're experiencing really significant issues, but often the work we do is preventative – helping people to build the practical skills that they need.
Ultimately, there is no magic wand, and clients have to take responsibility for doing what it takes to resolve their own problems.
What kind of people tend to do well?
Someone grounded, and insightful. You need to be able to reflect on yourself and your practice, both good and bad, seeking support as you need it, to develop yourself. New practitioners have to work through their own problems (before they study, ideally), and you have to be able to meet your clients where they are, respecting them and taking off your own expectations.
To be a really good Psychologist, you need to be practical – and empathetic, not sympathetic. You need to have a very good support system and to monitor your own self-care. You will be emotionally affected by the work at times, and that's fine… you just need to be aware of your emotional response; to feel it, debrief and then deal with it properly.
You do need to be relatively autonomous and independent in your approach. You need a good supervisor and also mentors help.
Finally, any advice you'd offer to people looking to get into this line of work?
It can be hard to know how and where you want to practice, so get involved in the profession early – read articles, meet people, look for mentors and ask around. Learn about the reality of working in this field, and all about the different specialities within Psychology. It often helps to start by eliminating what you don't want to do.
Also get any experience you can. Volunteer in your areas of interest, and look for work within a Practice environment, even as a receptionist or in administration; you'll learn how it all operates and get to see the type of people that we work with.
It's a hard road to become a Psychologist and having maturity will help – get some life experience and consider other pathways to this kind of work, as there are lots of options… If you're drawn to helping people, also consider studying Counselling or Social Work; that might take you into a career where you're working as a Counsellor or Case Worker, working with mental health or in community development, for example.
Organisational Psychology is allied to Human Resources work, so you'll need a business head for that kind of work, as well as a structured, organised, concrete approach.
Educational and Developmental Psychologists often work with school-aged children, so you need to enjoy working with children and have a real understanding of young people; the closest work to this, outside of Psychology, is probably School Guidance (and people come into this work from Psychology, or from Teaching).
Finally, Neuropsychology is almost bordering on Medicine – you need a real detail orientation, with a flair for and interest in science.