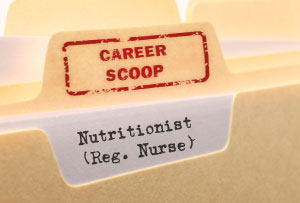 I am a Registered Nurse, specialising in Nutrition, and specifically, Health Promotion.
In a nutshell, what do you do?
I consult privately, working with clients with a range of issues, and work with them, making recommendations and setting goals to improve their overall health.
Problems range from clients needing to lose weight, or allergies and food intolerances, to helping children who are fussy eaters to expand their food repertoire, to ensure that they get the nutrition that they need.
Why did you decide to become a Nutritionist?
Nutrition has always interested me. One side of my family has a long history of being severely overweight, with diabetes and the co-morbidities that go with it, and my Grandmother died of a stroke when I was young.
When I left school, I went into nursing – because I didn't know what else to do – and I began to realize the importance of diet and exercise to preventing those kind of illnesses. I also lost a lot of weight myself, and experienced how differently I felt, how much more easily I could move around – and how much easier it was to be healthy.
What path did you take into it?
I qualified and worked as a Registered Nurse, and then, when my son was born, my nursing shifts increasingly impacted on my ability to be with him, as I worked nights and mornings. I realised that I needed to do something that would give me less guilt as a mother, so I asked myself what I really loved – and that was nutrition and health.
I went on to study a Postgraduate Certificate in Human Nutrition at Deakin, and now I'm completing a Masters in Dietetics.
What, in your opinion, is the best bit of being a Nutritionist?
I get paid to talk about food all day – and I love food! I get to research food and spend time recipe-testing, for example, to help people to find a way around food intolerances.
I help people to eat well and to be healthy – and to really enjoy their food. Eating healthily doesn't mean eating food that tastes like cardboard!
Every job has its downsides. What do you think are the worst bits?
Probably the admin side – it's not something I enjoy, but you have to do it.
Also, people often don't realise the amount of study involved in working in this field – the biochemistry of how your body actually uses food. I choose to go under the title of Registered Nurse specialising in Nutrition, as there's more credibility in that for most people.
Another frustration is in trying to get people to change. I often work with people in their 50's and 60's whose health is suffering and nutrition is the issue; they want the benefits of making the change, without having to actually change what they eat.
It's like a gym membership – you still have to do the work and make the changes… and just knowing what you should eat doesn't necessarily translate into actually eating healthily!
Is it what you expected when you first started out – and what's different?
I didn't realise quite how much science was involved; that came as a bit of a surprise. Dietetics is also a really hard course to get into – the students are High Distinction students – and it's expensive too.
I knew more or less what to expect from working in private practice, as before I started study, I spoke to Dietitians and spent a few days shadowing them, to learn what they did and how they worked. I wasn't expecting as much out of hours work – that was a surprise. Often I see clients in the evenings, when they've finished work.
Finally, realising that not everyone is excited about food and health as I am… that was a bit of a rude awakening!
What do the public least understand – or mistake – about what you do?
People think that I must eat healthily all the time, and they don't want to tell me about the bad things that they're eating – they think I only want to hear about the 'good' food.
Most people also underestimate the level of training involved to work in Nutrition. The truth is that training as a Dietitian is harder and more rigorous than training in Nursing, but there's still more credibility when I tell people that I'm a Registered Nurse.
The moment people hear that, they start telling me about their health issues – which I need to know about, to help them with nutrition.
What kind of people tend to do well?
People skills, people skills, people skills! You need to have really good counselling skills, as you need to get people to want to make changes to their eating habits. That's probably been the area I've most needed to work on.
It definitely helps to be science-minded, to work in Dietetics particularly – there's a lot of human biology involved. But you also have to be able to relate scientific information to people in a way that they can understand, and work with.
Finally, people who work in this area all love food – deep down, you need to have a real passion for good food.
Finally, any advice you'd offer to people looking to get into this line of work?
Most people don't really understand the difference between Nutritionists and Dietitians, and you really need to think about where you see yourself working when you finish, to choose the right study to get you there. Check what credentials you're going to need to work in that area, before you make any study choices.
The problem is that the title of Nutritionist is not protected; anyone can use it, but people's training and credentials vary hugely, and that can make the public wary about your expertise and credibility. There are lots of people out there who think that they're an expert, simply because they eat.
As an Accredited Practicing Dietitian (ie tertiary-qualified), you get referrals from Doctors, and you can offer Medicare Rebate (NB. The term "Accredited Practicing Dietitian is a title owned by the Dietitians association of Australia (DAA) who accredit suitable courses and award the people who qualify with the title; they also have mandatory continuing education each year to maintain the title and to qualify for a Medicare provider number or veterans affairs this title is required).
As a Naturopath (also tertiary-qualified), you can offer Health fund rebates – and most private clients are looking for these. In terms of making choices, if you're passionate about natural medicine, then Naturopathy might be the best route for you. If you prefer something really evidence-based, then Dietetics is probably a better match.
To work with clients in private practice, you really need to be an accredited, practicing Dietitian (or a Tertiary-qualified, Registered Nutritionist) and be self-motivated.
Without tertiary / university qualifications, it's hard to make a career out of working as a Nutritionist – to build credibility and a client base. In that situation, you need to be willing to really self-promote to drum up business, to go out and do talks, visit kindergartens and schools etc… and even then, it's going to be hard to make it a career.
There are also Nutritionists, with say a Masters in Nutrition, working in-house in the big food companies, helping to develop new products (like gluten-free bread), write nutrition panels for products or working within the Marketing Department, alongside Marketers and Lawyers; there's so much law around what can be put on food packaging or labels. That kind of work is much more computer-based.
Finally, there are some Personal Trainers who have some basic training in Nutrition, and touch a little on that side of things too.