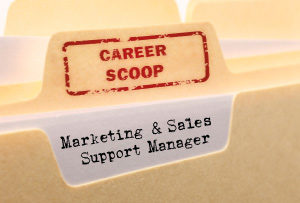 What's your Job Title?
Marketing and Sales Support Manager, for an Agricultural company.
In a nutshell, what do you do?
I put together marketing strategies and budgets to promote the company's products, and through that, help to increase sales.
Why did you decide to become a Marketing and Sales Support Manager?
The career opportunity presented itself. I'd been working as the GM (General Manager) of a company that relocated, and I was offered a new role in sales and marketing because of my business background.
What path did you take into it?
I originally did a dual Business and Engineering degree, and started my career in office roles, which lead into finance roles. From there I progressed to CFO (Chief Financial Officer) and then GM. The region I was working in was a major agricultural area, so I built my career within this industry.
What, in your opinion, is the best bit of being a Marketing and Sales Support Manager?
The best bit is getting to deal directly with people, and helping them to grow the business. There's also the satisfaction of knowing that you're involved in an industry that provides food; the production side of agriculture is something that I take a genuine pride in.
I also get to work with very genuine people; most of the people working in agriculture are very friendly. When I'm travelling to the regions, they'll invite you into their houses, they're always up for a chat and I love that.
You work with lots of people in agriculture, and they're all different. Dealing with livestock and cattle production farms (which I do all the time) is very different from working with those in grain, for example, or those in the big international companies; each has a totally different culture. You also meet some incredibly strong, capable women. It's an isolated life and they use the internet really well to build networks.
I partner with the sales staff in the regions, and travel with them to ask if the customers are happy and to get a feel for the company's reputation; you're the PR person on the road. You have to go to every country show, every agricultural show – that's where you get to know people, build relationships and prove yourself.
You need to get out there amongst it to understand the products and services – you work closely with and really listen to your Territory Managers, to make sure you know what's going on. Where are they spending their advertising budget? What's working? The country works completely differently to the city, so you have to listen to what works for them.
Every job has its downsides. What do you think are the worst bits?
Being a female can be challenging, as you can get written off as 'just a pretty face' and you have to work twice as hard as a result. You have to toughen up – you have to be very strong and straightforward to be taken seriously.
As a woman, you also have to be very aware of what you're wearing and what messages you're sending – for example, wearing skinny jeans is fine in the cities, but it's not in the country. When I get out into the country, I have to change my approach – take off the heels and get into boots and jeans, pull my hair back and fit into the country population. I've definitely encountered sexism, and it would be very easy to be misunderstood professionally in this industry.
When I started out, I found that people didn't have much time for city people or for foreigners – people who aren't from a country background themselves – and I had to work hard to win them over. Having some humility helped – working with them, laughing with them, connecting with them. You smile and take all the jokes, but you stay focussed.
It can take a long time to build relationships, by getting out there in front of people, and that means a lot of travel. You have to travel to the regions regularly and that means long hours; I'll often be travelling until 9 or 10 pm. And it's not flash – you have to rough it, be prepared to jump on the trucks and muck in. Even after years of doing that, you'll still be seen as the 'city person'.
Is it what you expected when you first started out – and what's different?
I did this job overseas before I moved to Australia and I didn't anticipate the challenges that I've experienced, working as a woman in agriculture; there's quite a bit of sexism and it hadn't been an issue where I worked before.
On the positive side, I didn't expect to get to work so closely with the land owners, to talk directly to the people who are connected to the land and who live it. I take a real pride in that.
What does the public least understand – or mistake – about what you do?
Often people think that marketing is 'fluffy' – that it's all about advertising ideas and going to parties, but it's a business function. Marketing is all about profitability and return on investment. Advertising budget is often the first thing to be cut, so it's not just about creativity… you need to quantify results and be able to justify the numbers.
I also find that people get confused between marketing, public relations and hands-on sales and business development… Marketing is strategic; it's driven by budgets, profits and justifying spend. Advertising is the tool used to promote the brand, increase market share and build relationships with customers. PR is all about customer service and relationship management – you need to build trust – and sales all about selling, including the technical, pricing side of things.
Specific to my industry, I often get asked 'how come you live in the city?' when I work in agriculture; people don't connect the city with agriculture or seem to think about where their food comes from! Most agricultural roles are in the country, but business functions can often be located in the city.
What kind of people tend to do well?
To do well in marketing, you have to be business-driven; you're there to make money for the company so you need a good head for numbers, and a strong focus on profits and results. You also need to think creatively – you won't always have the budget, so you need to find creative and effective solutions, different 'out the box' ways to promote your company's products and services.
You have to be good with people, whether they're within the company or outside – for example building good relationships with distributors and dealers. You can't always please everyone, and you need to be able to manage all your customer relationships well.
You also need to really understand who your audience is – to know them, speak their language and understand their concerns and realities… You need to see through their eyes, and know what's most important to them. For example, in agriculture, the average age is 52, so I have to be able to communicate effectively across age groups – and as people tend to be very down to earth, I need to be direct. Good marketers have to understand the different channels in an industry and know how to reach people in their space.
To do well in Agriculture? People in this industry are typically down to earth, humble and direct. They're also passionate about the land and food production… Australia is a big agricultural exporter, and there's real pride in feeding the world. It helps if you share that passion for food (and you'd probably not want to be a vegetarian!)
Finally, any advice you'd offer to people looking to get into this line of work?
Travel out to the country – you need to be willing to get out there and work there, as most of the jobs are in the regions. You have to get in front of the locals and be willing to work regionally.
If you're looking for business positions, most of the roles are in Melbourne or Sydney, so you'll need to be willing to work there.