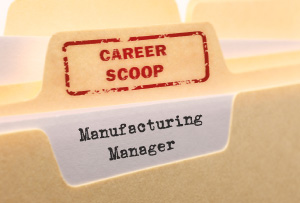 In a nutshell, what do you do?
I am the Manufacturing Manager for a major beverage manufacturing company. This involves the full management of approx. 80 people of a plant that makes and packages juice, spring water and soft drink.
There are numerous departments within the plant which I lead, from quality, syrup making, production, warehouse and planning to name a few.
Why did you decide to become a Manufacturing Manager?
It really was a natural progression. I started off as a Production Fitter and aspired to get into management.
What path did you take into it? 
After some experience and study, I became a Production Team leader at a large beverage manufacturer, leading the maintenance and operations personnel in front line management of a single beverage-packaging production line.
I then continued studying and eventually obtained a Postgrad in Packaging Technology. This accelerated me through roles such as Production manager, Process Support Manager, Quality Manager and then eventually Manufacturing Manager in charge of a whole Beverage Manufacturing plant.
What, in your opinion, is the best bit of being a Manufacturing Manager?
Being able to lead teams, breaking down silos and bringing the best out of people. I have realised during my time that most people wish to excel, in saying that, if you treat people right, have transparency in all that you do and keep them informed, people generally start in a continuous improvement cycle.
Every job has its downsides. What do you think are the worst bits?
Having to make decisions at times which feels like you playing with peoples' livelihoods.  At times decisions need to be made which are good for the business and you have to remove yourself from the emotional side, as they at times involve unpopular ones.
Is it what you expected when you first started out – and what's different?
As my career was not mapped out when I started its difficult to answer, however I have always set myself short term five year goals and having reached all except the current one, yes it was what I expected.
What do the public least understand – or mistake – about what you do? 
Not sure.
What kind of people tend to do well?
Technically-minded, logical and ambitious people who get out there and chase their goals no matter what obstacles are put in your way.
Due to the position being one that a person obtains after 10 years + experience, with a Tertiary qualification, the person would be wanting to study a Food Science or engineering degree together with seeking manufacturing leadership roles. The role is one of experience and education, so the person would have to be prepared to do the hard yards.
Finally, any advice you'd offer to people looking to get into this line of work?  
Set short term five year goals i.e. Always strive to move up a level every five years. Keep current with studies to suite the next level whilst working until you get to desired position.