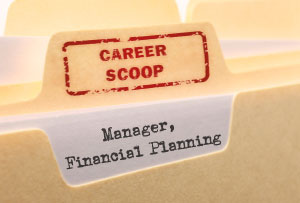 In a nutshell, what do you do?
I manage a team of Financial Planners, delivering advice – primarily on superannuation – to super members and non-members. At the moment, we're expanding our license, to include both super and non-super funds – and provide advice on managed funds, life insurance, shares etc.
Why did you decide to become a Manager, Financial Planning?
I was working in high-end retailing in the UK, and when we moved to Australia, I followed that here. Getting close to 30, I was looking at 40 and 50 year olds working in retail and realized that it wasn't what I wanted to be doing in 10 years' time. They were still on pretty much the same salary, and we were working longer and longer hours, doing late nights and weekends…
I'd always had an interest in investment and tax, so it was a logical move for me. When I was about 30, I took the step of moving to work for one of the big banks, and I went from there.
What path did you take into it?
I'd had people asking me about tax and investments for a while, so I took a bit of a chance moving to a bank, expecting that it would help transition me into financial planning. It was a relatively new industry at that time, and going through a major bank was a good option.
I spent my first year in the contact centre – I couldn't just move straight into financial planning, I had to go through the process, started studying and then I got promoted from there…
What, in your opinion, is the best bit of working in Financial Planning?
The best bit is helping people to realise their goals; giving them a better understanding of when they can retire – often it's sooner than they had expected – and of how good their life after retirement could be.
A very close second is the financial rewards of the industry.
Every job has its downsides. What do you think are the worst bits?
People don't always take your advice. I work commission-free, which means that what I suggest is always in the best interest of my members, but some people are still ambivalent, or can't really be bothered.
You'll meet someone a year later, and ask them if they took your advice – and then you hear no, which means that they're now a year behind. That can be frustrating.
Is it what you expected when you first started out – and what's different?
There's a fair bit of education involved in becoming a CFP (Certified Financial Planner) and then ongoing education to maintain that status. It's the highest level of accreditation, both locally and overseas, and entails studying 13 subjects.
Having said that, it really opens up opportunities for you – the number of CFPs is increasing, as it gives you a distinct advantage for work. I'm very grateful that my former manager pushed me to complete mine.
When I first moved into the bank, the work was very prescriptive and limiting, but then I moved ahead with study and experience, ultimately working with private, high-net-worth clients and that opened things up.
When the General Manager left the bank, I followed him to a Super Fund, to establish a private clients segment of that business – something that was expected to take 6 months, but took considerably longer; all up I was there for 7 years. Having said that, it was a really interesting role, providing broad advice to all sorts of clients. Very complex work.
These days, I've gone back to basics, and I give much more simple advice… but I've gained lots of experience, and opportunities, having been asked to set up an in-house advisory centre – very much like setting up your own business, but without having to put your hands in your own pockets.
What do the public least understand – or mistake – about what you do?
Professionalism in financial planning is a big thing, both in the news and in the financial community. With the GFC, and with some financial companies having gone under, a lot of people were exposed to risk. The reputation of the industry took a real hit, and that takes a long time to repair. People were reluctant to take advice afterwards…
Some people also don't recognise the value that you bring, and will say that they should get this advice for free. Just like a Doctor or Dentist, where people pay for the service and advice, you have to know your worth. That's the price, and if they're not willing to engage, then you move on.
What kind of people tend to do well?
From my experience, you have to have a genuine care for your clients. I've seen lots of people come and go, churning their way through flogging products to meet sales targets or get a large bonus, and they look good briefly… but then the auditors come in, and it turns out that they were working unethically, if not illegally.
Ethics is a really big thing in the industry – people come back to someone that they trust. It's then that you get to hear that your advice has made a huge difference to them, and that they don't know where they'd be now without it…
You will get clients who come in, having read books or spoken to someone at a BBQ, and they'll tell you that they want this or that… Don't be an order taker. You wouldn't go to see a Doctor and tell them what pills you want, and you're the financial professional. You need to understand the problem and come up with alternative solutions. Your role is to open people's eyes to the opportunities – that's why they come to you.
Finally, you need to be able to keep things simple, to explain concepts in simple terms so that people go away understanding financial concepts and terms, so that they understand why you've given the advice you have. You understand the complexity and learn all the fancy words and can be really technical, but they mean nothing to the Doctor, or Dentist or Teacher (or any lay-person) who comes in for your advice.
Finally, any advice you'd offer to people looking to get into this line of work?
It's a noble career, and financially it can be very attractive – but gone are the days when you can just join a bank, do a one-month course and then become a Financial Planner.
If you're looking to transition into financial planning from a different area, it's looked on favourably if you start studying first before you look to make the career move… When someone's committed enough to be funding themselves through studies it bodes well, and really counts when you're up against others wanting to make the move.
You're unlikely to start with a major Financial Planning firm, but there are lots of opportunities to get your foot in the door with a Super or Industry fund. Contacts are a big thing in the industry. The last two people I employed, were through word of mouth; they found out about the jobs through word of mouth, and I hired them, having spoken to people who knew them. Knowing people who are already in the industry can make a big difference.
It was a big change for me to move from retailing into financial planning, and I hated the study… but I wanted a change, and there's a lot of pluses and few drawbacks. You get to really help people move towards achieving their goals which is very rewarding, and you can do well financially, and make a very comfortable living from this industry.