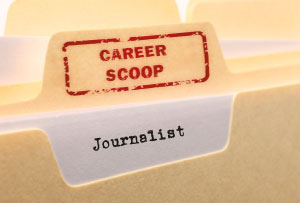 What's your Job Title?
Journalist.
In a nutshell, what do you do?
I research and write newspaper articles and magazine features. My work also extends to producing radio documentaries, teaching journalism at tertiary level, and doing media training for corporate organisations.
As a staff journalist, I covered a specific round for a specific masthead and many of the stories I wrote were assigned to me. As a freelance journalist, I have much more freedom to choose who I write for and what stories I choose to cover.
My work involves reading, researching, interviewing (face-to-face and over the phone). It can also involve significant travel, depending on the type of work I am doing.
Why did you decide to become a Journalist?
I'm curious about the world. I like meeting new people and telling their stories. I like to travel. I'm inspired by news and current events. I'm a good writer and an effective communicator.
What path did you take into it?
I enrolled in an arts/law degree at UQ. Every Friday, while I was studying, I did a day of work experience at The Queensland Times newspaper in Ipswich. After a year they gave me a casual job, which became a cadetship. I had already finished my arts degree by that time. I finished my law degree part-time.
What, in your opinion, is the best bit of being a Journalist?
Meeting new people. Immersing myself in extraordinary subject areas for a day or a week or a month. Amazing experiences that I would not ordinarily get to experience. Fine-tuning my bullshit detector. Fine-tuning my writing skills. Mentoring young journalists. Keeping a close eye on news and current affairs.
Every job has its downsides. What do you think are the worst bits?
Like every industry, journalism has been dramatically changed by the digital revolution. It is both exciting and daunting. As a freelancer, I am very exposed to change. On the other hand, I am also very adaptable. My solid skills bank means I am able to generate new work from new income streams at very short notice.
Is it what you expected when you first started out – and what's different?
The digital revolution has made newspapers all but irrelevant. At my first newspaper, there was one terminal with an internet connection. At my second newspaper, there were two terminals. I had my first corporate email address in 2002.
What do the public least understand – or mistake – about what you do?
In many circumstances, journalists are treated poorly. We are viewed as the enemy, as trash mongers, as vultures. We have commercial television and the worst type of tabloid newspapers to thank for that.
What kind of people tend to do well?
Independent, determined, self-motivated, curious, attentive, politically attuned and socially minded.
Finally, any advice you'd offer to people looking to get into this line of work?
Be clear about why you want to work in this industry. Align yourself with a certain publication or outlet. Offer yourself for freelance or casual work. It helps to have an undergraduate or postgraduate degree. These help with intern placements and industry contacts – check before you enrol.