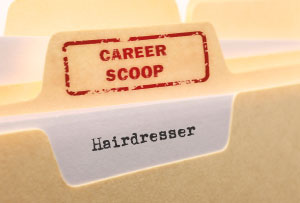 In a nutshell, what do you do? 
I'm a Colourist, colouring and styling clients' hair.
First off, why did you decide to become a hairdresser? 
I was studying at uni and was volunteering as a hair model. I wasn't enjoying uni and thought that hairdressing looked fun, so I did some work experience and fell in love.
What path did you take into it? 
Apprenticeship – Certificate III in Hairdressing.
What, in your opinion, is the best bit of being a hairdressing?
Making people feel good when they look at themselves, being a part in constructing peoples' images and styles, and I enjoy talking and interacting with people.
Every job has its downsides. What do you think are the worst bits?
Long days on your feet, and irregular breaks.
Is it what you expected when you first started out – and what's different?
I really had no expectations about the industry when I first started as I hadn't really considered it an option. My boss when very good at explaining what was involved and I took it one step at a time from there.
Owning your own salon was a different story. Not what I expected but glad I did it.
What do the public least understand – or mistake – about what you do? 
The amount of training that we undertake and that most of it is done outside of work hours. All extra photo-shoots, events and education is done in our own time, and unpaid.
I think there has always been a misconception that hairdressing is something women do after school or instead of / because they are unable to go to uni.
What kind of people tend to do well?
You need good people skills and patience whilst dealing with clients. You need to be creative but also be mindful of the wants and needs of the client. Communication is the most important thing you need as a hairdresser, but unfortunately you can't teach good understanding and communication – this is something people either have or don't.
Finally, any advice you'd offer to people looking to get into this line of work?   
Work experience is the best way to decide whether it is for you. Not just one day though – being an apprentice is hard work, so having an understanding of what is involved will help to realise that you aren't a hairdresser a week after starting.