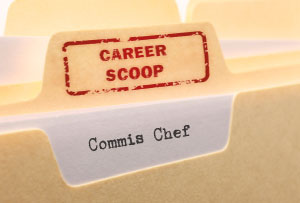 In a nutshell, what do you do?
Food prep such as bucket loads (literally) of onions, potatoes, spinach and anything else we use frequently.  Make simple recipes. Manage herb and garnish levels, make pastry items such as hot and cold deserts, clean, a lot!
Wash dishes, keep hot press stocked with correct plates at adequate levels for service, during service I manage the dessert section, back up the junior sous chef on salads, pizzas and fryers and generally run around getting whatever the other chefs need or plate their food as required.
Why did you decide to become a Commis Chef?
I always had an interest in food, the opportunity arose to have a career change so I jumped at it.
What path did you take into it?
I attended the local technical college completing level III professional cookery and level III baking / patisserie over a 12 month period.
What, in your opinion, is the best bit of being a Commis Chef?
During a busy service you are basically running on adrenalin.  Hoping from one thing to another, literally on the run, it's a hell of a rush and very addictive.  That and the feedback from customers when they love what you made for them.
Every job has its downsides. What do you think are the worst bits?
You are working for every important day, life event etc.  Valentines day? Too bad, you're cooking for the other love birds.  You will probably work late into the evening unless you get a gig where you only do breakfast and lunch services.  In which case you are probably making sandwiches, scones etc in a second rate cafe.
If you want to be a chef in a quality restaurant you have to be prepared to work all the hours that everyone else has off.
Is it what you expected when you first started out – and what's different?
It's a lot tougher physically than I expected it to be.  There is a lot of lifting, bending, swinging, running, walking, whisking done during a day, it can leave you very bone weary.
What do the public least understand – or mistake – about what you do? 
I think people have been watching shows like Masterchef and My Kitchen Rules etc, where they see a person get 3 hours to make a couple of courses of food.  The reality of professional cookery is different.  You spend hours prepping enough food to get you through service.  Service itself is often 10 – 20 dockets deep, i.e. you are working on components for that many orders at one time.
You need to time your components with the other chefs who are in turn working on their components so you all get your food up to complete the order together.  It's not always that crazy but it is a regular occurrence.  You don't get to stand around plating one meal and making it look pretty.  You have to be fast, precise and consistent.  It's not glam but it is seriously fun.
What kind of people tend to do well?
People pleasers really work out well in a kitchen.  It helps to be the type of person who doesn't like letting down the team.  You need to be a team player, be honest, reliable, methodical, resilient and of course, a sense of humour is essential.  Kitchen life can be hard emotionally, so a thick skin is useful too!
Finally, any advice you'd offer to people looking to get into this line of work?
Practical experience is essential; you need to expect to start from the bottom even if you have completed culinary school.  What you learn in school is method, application of that method and kitchen life experience comes from hard work.
Knock on doors, speak to chefs and offer to do work experience for a week.  If you work hard and show you are keen to learn, they often will find a few shifts for you.  Be prepared to start by washing dishes – it's amazing how much you learn about cheffing from your vantage point of the sink.