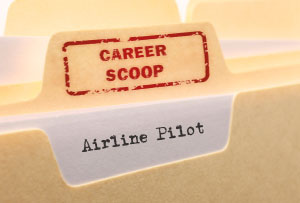 In a nutshell, what do you do?
Fly jet aircraft for a commercial airline.
Why did you decide to become a Pilot?
It seemed like a rewarding and challenging career, that didn't involve being stuck in an office environment.
What path did you take into it?
I saved up enough money from working full time in another industry, then went and did a full time training course for 12 months at a private flying training school.? At the end of the course I had a Commercial pilots licence, and had passed the required exams for an Airline Transport Pilot Licence.
I spent the next few years flying light aircraft, acquiring enough flying hours to be eligible for an airline job.
What, in your opinion, is the best bit of being a pilot?
Each day throws up a different challenge. It is very satisfying at the end of the day to know that you've flown this very complicated machine between ports safely.
Every job has its downsides. What do you think are the worst bits?
We get tested very regularly. To be prepared for these tests requires a lot of ongoing preparation, so getting your pilots licence is really only the beginning of many years of study.
Also your life revolves around your roster. You only ever know what you're doing for the next 4 weeks.
Is it what you expected when you first started out – and what's different?
For the most part it is what I expected.? The flying industry goes in cycles, so sometimes it seems like your career is stalled, then things will improve and you get some progression. You just have to be patient.
What do the public least understand – or mistake – about what you do?
The question I get asked most often is "doesn't the autopilot do everything – what do you do?"  ?Our busiest time is getting the aircraft programmed and departed in a timely way and getting it back on the ground safely.
I think some people would be surprised at how busy we can get.? This is especially important in the air as we only have a limited time to get things assessed and organised and we have to get it right every time.
What kind of people tend to do well?
Most pilots seem to be very technical and analytical thinkers.
In an airline especially, you often work with people you have never met before. You must be able to follow set procedures and work well with other people in a team environment.
Finally, any advice you'd offer to people looking to get into this line of work?
Being a pilot is a very rewarding career, however I've seen many people over the years who think that they can just get their licence and then the airlines will be knocking down their door with great job offers.? The truth is that most airline pilots have put in many years living a very transient lifestyle, acquiring experience to progress onto a better job.
To succeed with this career you must start with a passion for flying.