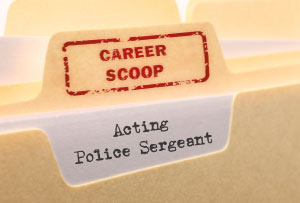 In a nutshell, what do you do?
I work at the Crime Prevention Program Unit; we look after all preventative policing programs. This includes adopt-a-cops, school based Police Officers, volunteers in policing, senior safety, personal safety etc.
Why did you choose this career?
I chose to join the police as I wanted a career that would provide variety and not be boring. I wanted to be a person that helps make our community a better place to live.
What path did you take into it?
I attended the police academy for 7 months then was a first year constable for one year. This means you work with senior officers while learning all aspects of general duties policing. All police graduates must be a General Duty Officer for a period of 3 years before going to another section. I had done 10 years of general duties before transferring to my current position.
What, in your opinion, is the best bit of being an Acting Police Sergeant?
The best aspect of policing is the variety of work. You never know what you will be doing on your shift. It can range from a fatal traffic incident to performing traffic duty. Each shift is a different one. You also meet and work with the most amazing people.
Every job has its downsides. What do you think are the worst bits?
Shift work is difficult. Obviously dealing with very stressful and traumatic events (deaths, bad traffic incidents, assaults etc) can be overwhelming – having a good support network is vital.
Another negative aspect of being a Police Officer is having complete strangers hate you because of the uniform you wear.
Is it what you expected when you first started out?
Policing is not just a job, it's a way of life. You can never turn it off – you're always a Police Officer, on duty or off duty.  I was not expecting that when I first started.
What do the public least understand – or mistake – about what you do?
That we go out to 'pick on people', or that we only write traffic tickets to get money for our Christmas party – the Government gets all proceeds from any ticket written. People who are not in the job don't comprehend the expectations that we have placed on us, by the public, senior officers and the Government.
What kind of people tend to do well in this kind of career?
The greasiest skill a Police Officer can possess is excellent communication skills. Every single shift will require communicating with people – at jobs, with other officers, media, families, general community members etc. You also need to be flexible and have good 'street smarts'.
Finally, any advice you'd offer to people looking to get into this line of work? 
This job is not for anyone seeking power. It's a career that separates you from the general public. You need to have life experience and an open mind.
If you are chasing a huge pay packet or an easy career, don't become a Police Officer. If you can handle pressure, constant criticism and genuinely want to help people, this may be the career for you.