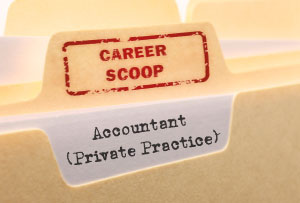 In a nutshell, what do you do?
My main role is to prepare accounts and tax returns for individuals and companies, but also to advise on how clients can run their business in the most tax efficient way.
Why did you choose this career?
I decided to be an accountant, firstly as I was good at maths, secondly I had a potential position waiting for me after university, and lastly accountants seemed to earn a good salary!
What path did you take into it?
There are two options for accountancy, you can start off working in an office while you learn, or obtain a degree first. I chose the latter option in order to give me a bit more time to decide that this was what I wanted to do, and secondly, to experience university life.
What, in your opinion, is the best bit of being an Accountant?
The best part of being an accountant is meeting with clients to learn about themselves and their business, and having the ability to help them grow their business and save them money / tax.
Every job has its downsides. What do you think are the worst bits?
The worst part of my job is more in relation to being self-employed, than accountancy itself – specifically dealing with staff issues. In relation to accountancy, the worst part is getting bogged down in the numbers when dealing with complicated or disorganised records.
Is it what you expected when you first started out?
The job does change the more experience you have, as to begin with it is much more number-crunching to produce accounts, which might be expected of an accountant, but then develops into much more a client-based job, with meetings and giving advice.
What do the public least understand – or mistake – about what you do?
I suppose the public perception is very much of a boring accountant who spends days typing numbers into a calculator. That may be more true of an accountant in industry, but in private practice it is much more varied, with client meetings and it also involves a lot of problem-solving and trying to help your clients, rather than being a purely compliance-based role.
What kind of people tend to do well in this kind of career?
From experience, individuals have to have good academic results, they have to have the ability to problem solve and be logical. Individuals need to be confident in dealing with clients and in their decision-making, and they have to be very trustworthy, as they're dealing with people's sensitive information.
Finally, any advice you'd offer to people looking to get into this line of work?
If an individual would like to get into accountancy then unless they particularly want to go to university full-time, I would advise starting work and studying as you go, as with most jobs the best way to learn is on the job and it will not take you any longer to achieve your final qualification…